APD Strategic Plan
The Austin Police Department would like your feedback as part of the development of the Strategic Plan. This plan will focus on providing direction and establishing priorities as our department continues to grow and change, as technology evolves, as demands shift and as APD and our community face new challenges and opportunities. The intent is to look at implementing a plan that helps APD build a department that is innovative, transparent, community-focused, and highly trained. This plan will communicate our overall direction, forming a logical framework that connects our goals, strategies, and measures, which can be applied to everyday work.
To learn more about our community meetings and to take the survey click on the Community Survey tab.
Our Roadmap: How did we get here
Over the past 10 months, APD has hosted numerous listening sessions, across the department, conducted a Community Workforce Survey, and engaged community members. These efforts have contributed to the bigger picture and process to get us where we are today.
Our Roadmap: Where we are now
As a result of these various engagements, we have been able to narrow down our strategic focus areas to five categories. It is important to note, these categories are still in draft mode and could change. As we begin our second round of community sessions, APD would like to present our top five priorities to the community in an open house format.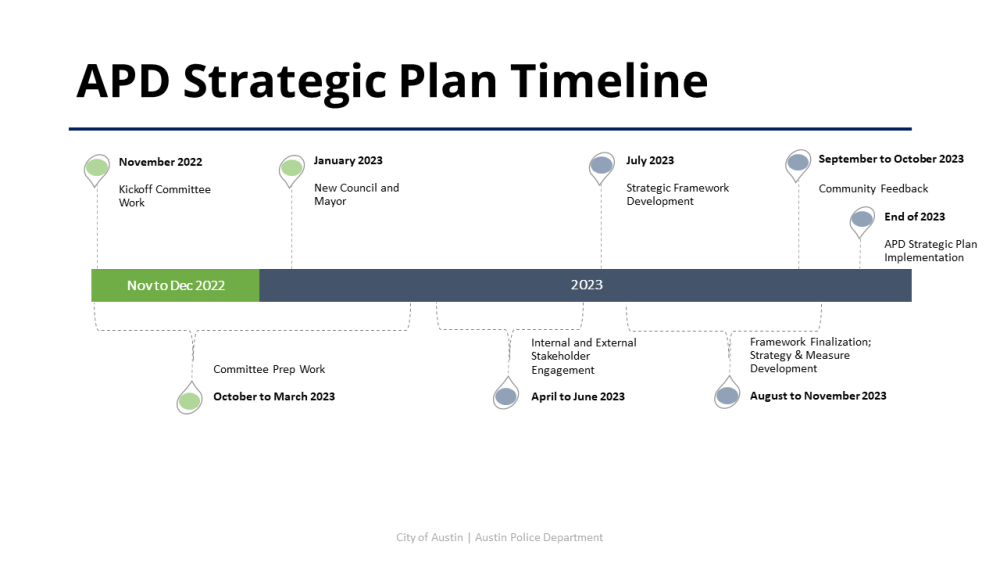 APD Strategic Planning Kickoff: November 2022
Strategic Planning Committee Prep Work: December 2022 to March 2023
– Internal Stakeholder Listening Sessions: April to June 2023
Community Input Sessions: June 2023
Synthesized and Analyzed Feedback from Internal and External Stakeholders and Reviewed Research and Best Practices: May to July 2023
Developed Draft High-Level Strategic Plan Framework: July to August 2023
Share Framework with Internal and External Stakeholders for Feedback : September 2023 to October 2023
East Community Open House Input Session: September 26, 2023
Carver Library
Carver Branch Room #2
1161 Angelina St
Austin, TX 78702
If you are not able to make one our community input open house sessions, you can provide feedback online.
Make Live Community Open House Input Sessions online: September 26, 2023
Additional Community Open House Input Sessions: October 2023
Close Community Open House Input Sessions online: October 25, 2023
Strategic Plan Implementation begins: End of 2023